David Wright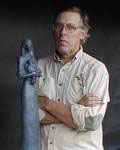 I was born in Wisconsin under a backwater moon, amid the clutter of a writer's notes river abused fly rods, tattered sports gear and small town drivel. I didn't lack for distractions or abstractions. It was good. John Muir lived there in Marquette County too, not that we were friends but it does demonstrate similar tastes in geography and similar aspirations.
We both attended the University of Wisconsin there on the lakes, under the influence of botanical banterings and wetland wanderings.
I left the heartlands carrying conspicuous baggage of Lady Slipper Orchids, writer's frustrations, bubbling primordial marshes, artifacts and a good nose for lurking fish and whistling ducks.
Married and aloof, my wife Ann and I drifted into California, in Muir's footsteps to teach in the Trinity Alps. Saw the big trees, Jed Smith's footsteps and the University of California. Studied a touch of art and ultimately fell in love with the wild grey clay along the Hayfork and up on the Southfork, the clay of art – more inspiring baggage.
New York was next, in the North Country far, in the land of blue snow, snow so God-awful cold the footsteps of a fleas would crash resoundingly on the deathly frost. More teaching and Potsdam University – more art.
We finally hit Colorado in 1970 there on the high prairie. Muir missed this place. His loss.Jed Smith didn't. We live surrounded by adobe, pinon smoke, rattling cottonwood leaves, meandering chickens, drifting kids, willing flyrods, small town drivel, my scattered written notes, redstone canyons and shortgrass moons. Circles.
At this point in time, all of my work is with the human figure. The pieces range from 21″ to 57″ and are available in both bronze and polymer. If I were to sum up the nature of my work I would say that it is meant to show appreciation of the more simple aspects of life like a handful of found flowers, a momentarily caught fish, a bunch of fresh garden beets and the warmth of a fat hen. They all seem to be items close at hand in our rural lives.