Michelle Zjala Winter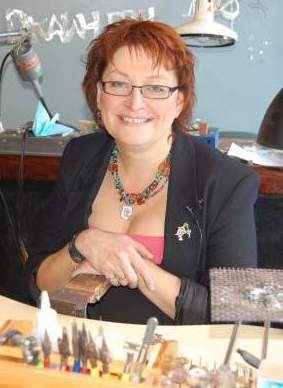 Ancient Wisdom, Techno-Tribal are phrases that I use to describe my work. I am inspired by jewelry created through the ages, and fascinated by the work that was done without the use of modern technology.
Most of my jewelry creations are fabricated using traditional techniques and the use of modern technology and tools. I take flat raw materials, such as sheet and wire, in sterling silver, gold and copper. I saw, bend and solder them together to create my designs. I love to use suprising materials such as Door County Beach stones captured in fabricated "boxes", or reclaimed piano key ivory. Precious and Semi-precious gemstones also play an important role in my jewelry. Gemstones, both faceted and cabochons of jasper, tourmaline, labradorite and turquoise are favorites, and many times when I see a stone I already have an idea of what I will create with it.
It seems to me that my career in jewelry started when I fell in love with the sparkling jewelry in the case of our family jeweler, Stubie. I would visit his store starting at the age of three or four, and I would pull myself up on the side of the cases to see all the sparkling, glittery jewelry. Many years later, that man, Harvey Stubenvohl became my teacher.
I have been making jewelry since high school, my first creation was more than 30 years ago. Since then I have shown my work in art shows and galleries, including Amman, Jordan, Door County, Green Bay, Milwaukee, Illinois and Michigan. My clients live in the United States, six other countries and my jewelry is worn by royalty.
I hope you enjoy wearing your Myska Design jewelry. (Myska is the polish word for mouse, my childhood nickname). Everything I create is made with love and a little magic!