Norm Wiedemeier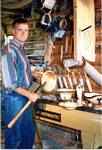 As a young man I had the opportunity to watch an artisan demonstrate advanced wood turning. As a beautiful bowl became fashioned from what amounted as little more than a piece of firewood, I became intrigued with the whole process.
Born and raised in Northeast Wisconsin, the son of a log cabin builder, I was taught to work with wood at an early age.
For nearly two decades I worked for a custom wood shop in Peshtigo, WI, constructing heavy timber tresses, custom beams, and even a few old time covered bridges. For the past ten years I have been self employed creating custom gazebos, custom furniture and a few log homes.
Since 2004, I have been a member of the Northeast Wisconsin Wood Turners Association. I have learned a lot from the organization, the classroom like environment and the honest critique given from other members has helped my work improve.
The materials that I use for turning are found locally, gathered from my property or salvaged from logging operations. I like to use burl or wood with unusual grain patterns and colors. Often I will start turning a piece with a shape in mind, but will be led to a completely different shape once I get inside of the wood.
My hope is that others will enjoy the end result as much as I enjoy the process of creating the piece.