Michael-Che` Swisher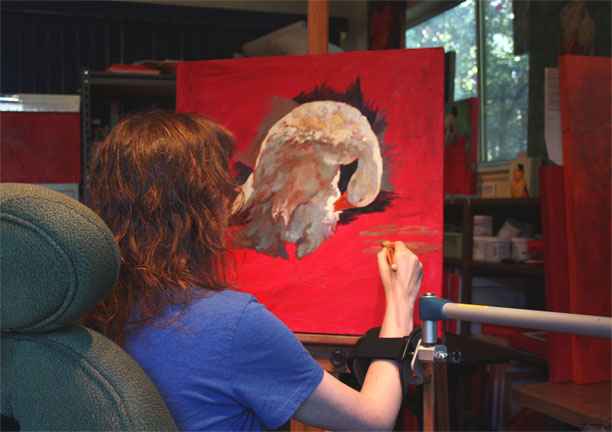 Michael-Che Swisher's work is inspired by her love of animals. As a child, she dragged home every injured squirrel, bunny, and bird. As a adult, she became a volunteer wildlife rehabilitator and fostered many kittens. The artist often had baby opossums and squirrels as residents and at other times, a house full of playful kittens.
With each painting, the artist focuses on color and texture to highlight the animal's unique personality. Michael-Che's style is instinctive. Colors and tools are selected as the painting develops. Brushes, painting knives, and other unexpected tools are utilized to create the artist's characteristic levels of texture. Mixing colors on both the palette and canvas allows the artist to experience the joy of manipulating thick layers of paint.
Michael-Che lives with multiple sclerosis which at times interferes with her painting,
weakening her eye muscles and the right side of her body. In early 2013, the artist
experienced severe muscle weakness in her right arm and shoulder and a loss of fine motor control in her hand. She was unable to paint for the rest of the year.
Today, the artist paints with the assistance of a mobile arm support that holds her arm up which she is unable to do herself. Despite the pain and challenges involved, Michael-Che is determined to paint. The MS Society asked her what it meant to paint again. Her response: "It means everything!"
Some days the artist can control the movements of a brush. Other days, it can be interesting. If her right hand is not strong enough to hold a brush, she'll let her left hand take over. The artist will find random objects and embark on an exploration of textures, turning something she can't control into finding new ways to express herself.
Before turning to fine art, Ms. Swisher was an illustrator for seven years. She illustrated four children's books and her artwork is displayed on dinnerware, bed & bath items, in magazines, and advertisements. Michael-Che's paintings can be found in private collections throughout the U.S. and in Japan, Australia, Great Britain, Korea, and Canada.