Dale Rogers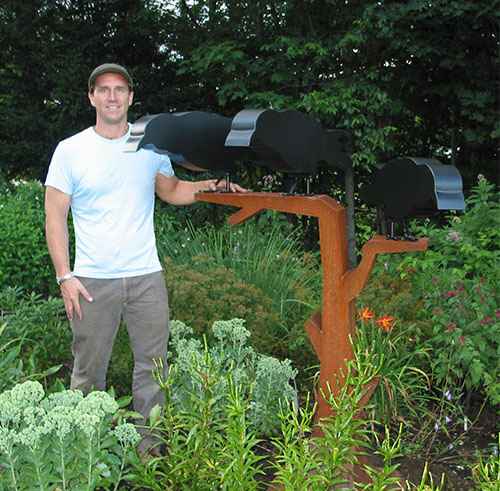 I am a full time metal sculptor from Massachusetts. I design both large-scale sculptures for individual installation with private collectors and temporary public exhibits full of multiple pieces.
My love for art lies in abstract geometrics, and much of my body of work encompasses the clean simple properties of that style. Over the years, I have incorporated iconic and whimsical shapes into my sculptures that allow viewers to connect with my art on an emotional level. My public exhibits feature sculptures that do just this. I strive to create thought-provoking work that is sophisticated, easily recognized, and will serve as a mental postcard.
Stainless Steel and Cor-Ten Steel are the metals I choose to work with. The Stainless Steel is beautiful and versatile. The surface of it can be done in many different finishes (as you will see in our gallery). The variations add dimension and depth to the different sculptures. The Cor-Ten is chosen for its "long life/low maintenance" reputation. It is what cities and the federal government use to make bridges out of. It oxidizes over time and then seals itself. It offers an organic and simple element to the sculptures while the Stainless Steel brings in a little more pizzazz and punch.
In 2002, I began my full time welding career. My interest in TIG welding and working with metal had started years before when I taught myself to repair metal equipment on my family's farm. My interest in art started even before that, when I was in school. Art was always something I loved, but truthfully didn't think it was a career path that could support a family. It always struck me as a hobby, and having it make sense economically didn't seem feasible. To that end, I have walked a fine line of balancing my creative impulses with the economic realities of marketing, selling, and transporting large heavy metal sculptures.
The process for creating my art takes at least six months from conception to completion. When an idea comes to me I think about it for some time before moving to the next step. I complete a sketch and then begin the process of transferring that idea to something that can be created with metal in my studio. I use 3-D software to perfect the image I want before breaking it apart into workable pieces to be laser cut.
My work includes sculptures for home and garden all of which are on display at fine galleries throughout the U.S. and are included in exclusive private and corporate collections. I am honored that my large sculptures enhance many public spaces across the nation for visitors to enjoy. When I am not designing, welding, or exhibiting, I like to spend time with my 3 children traveling in my Vanagon, 4-wheeling, and flying kites.