Jeremy Popelka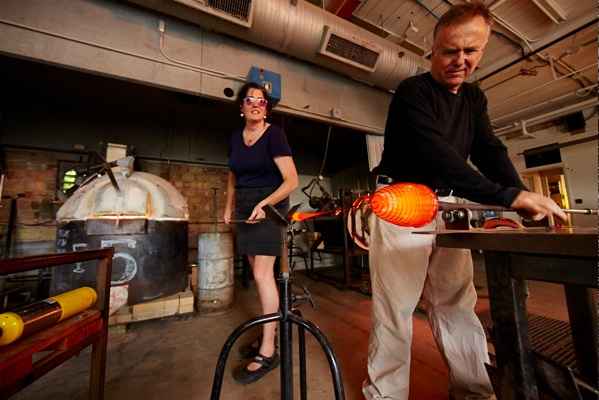 Jeremy Popelka's award-winning cast sculptures have been shown internationally. In the fall of 2001 he took honorable mention in Glass Now, in Japan. His sculptures can currently be seen in fine galleries throughout the country.
"The cast work sculptures are part of a continuing series that is driven by my interest in archaeology and archetype images. I am intrigued with our oral traditions and how they may be expressed through form."
His blown work is made in the ancient venetian style of Murrini. His color choices are often inspired by the modern painters such as Kandinsky, Klimpt and Mondrian. He also responds to landscape and cityscape which is reflected in the mood and tone of these pieces. The Murrini process consists of making tri colored cane and encasing it onto a bubble which is then blown out. This work is carried throughout the country in many fine galleries.
Popelka received his Bachelor of Fine Arts from Illinois State University in 1985 and his Masters in Fine Art from California College of Arts and Crafts in 1991. He has shown his work in many exhibitions in California, Wisconsin, Florida and Japan.