David Lindsay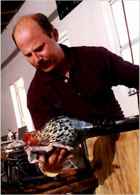 Established in 1998, Lindsay Art Glass is proud to be creating hand blown art glass in our studio located in beautiful downtown Benicia.
Artist David Lindsay uses this ancient art form to create work inspired by the sea and nature with movement and flow in their many shapes and designs.
David's unique designs have an artistry that leaves the realm of realism and explores the abstract.
David L. Lindsay : is a self-taught glass artist. Born and raised in Vallejo, California, he graduated from St. Patrick High School in 1975. A few months later, he became an apprentice at Nourot Glass Studio in 1976. Over the following six years, David advanced from apprentice to assistant glass blower to gaffer. David became proficient in all aspects of the glass production process from mixing batch to monitoring the melting process to blowing pieces to grinding pieces during the years as an employee of Nourot Glass Studio. In 1982, David became a partner of Nourot Glass Studio. David was a partner in Nourot Glass Studio from January 1, 1982 to December 31, 1997. In 1998, David and his wife, Ann, started Lindsay Art Glass.
When not creating glass, David enjoys golf and being with his family. He is an active member of Benicia Golf Association, and served on the Board of Directors for the BGA for three years. David is a member of the Glass Art Society , Bay Area Studio Art Glass , Arts Benicia , Paperweight Collectors Association , Chamber of Commerce, Old Town Merchants Association and American Crafts Council.
Work by David Lindsay
Share this