Ken & Pat Larson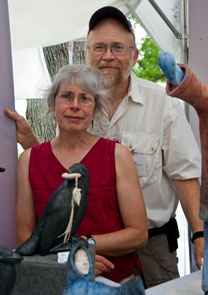 We work together as a collaborative team with no assistants helping with any part of our artwork. There is no set pattern for this interplay. We each work on what we are best at for the piece and process given our individual expertise.
Our medium of choice is clay sculpture, which we have come to as a natural progression. The craft of working with clay was learned starting with functional forms, both wheel-thrown and hand-built. Over more than 30 years they became first decorative objects, then sculptural representations that elicit an imaginative response. Clay is a flexible medium. All the things you can do with it– roll, fold, paddle, add, subtract, texture, burnish, etc.–offer virtually endless possibilities. Combine that with the different firings of raku, low temperature salt saggar, and terra cotta and you have a lot of room to explore. The technique provides the right vehicle for communication through the art object. That's our goal with every piece.
Our artwork is about our lives, experiences, and interests. It is a reflection of the wild land we live on as well as our backpacking experiences in the mountain and desert wilderness areas in the western United States. An ongoing love affair with birds and a few other animals provides the balance of the content for our sculpture. Combining all these focuses has led to exploring the possibilities for interaction between the human race and the natural world. And, very important to us, virtually every piece we make has some kind of story behind it which gives the finished work added meaning beyond the decorative aesthetic.