Dan & Marybeth Kralovetz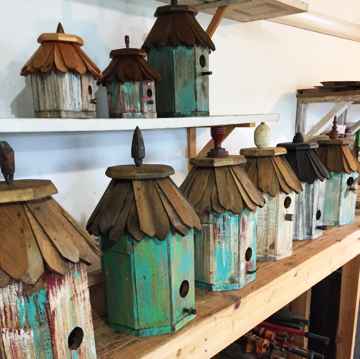 Dan Kralovetz is a skilled craftsman who's work is only limited by his imagination. His current collection includes various sizes and styles of bird houses made from reclaimed wood, scrap metal and recycled objects.
While the materials he uses may be simple, his techniques and attention to detail are anything but. Dan's love of old materials made new again are evident in the character of his work.
He draws inspiration from nature and his surroundings located in the heart of Wisconsin. From pastoral farm towns with their rugged natural beauty, to lake fronts and wildlife near his home and studio that he shares with his wife, and four horses.
Dan's wife, Marybeth, is a skilled artist. She has become an integral part of Dan's birdhouses by expanding their beauty with color. Marybeth paints the exterior giving the birdhouses a unique look.
Not one to sit idle, new creations are always in the works. Stay in touch with Dan and Marybeth to see more in the future.