Regina Imbsweiler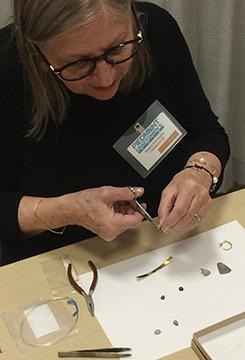 Regina, educated in the 1970s at the renowned School for Goldsmiths in Pforzheim, Germany, has lived and worked in the United States since 1991.
Her favorite techniques combine silver and gold in an elaborate overlay that uses delicate, hand-drawn wires in flowing lines, as well as granulation, to create a unique look.
Among her favorite stones, aquamarines stand out in impressive sizes and sea colors, while tourmalines offer a spectrum of greens, yellows and pink in endless nuances.
The settings and the gold overlay are executed in 22 karat gold.