Ned Cain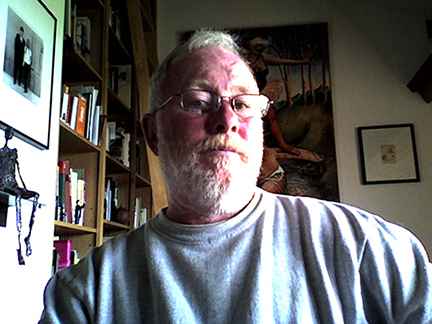 I am a native of De Pere, Wisconsin. I have worked as a model maker, teacher of Architectural and Industrial Model Building, and inventor here in the Midwest and on the East Coast. I have been sculpting full time for the past twenty three years.
I worked my way through school as a draftsman for the architectural firm of Hoffman and Associates in De Pere, Wisconsin. Upon graduation I took a job as an inventor/designer with Ted Wolf Associates located in Fairfield N.J. Returning to the Midwest I worked for Bay Drafting and Associates in Green Bay. While in this position I worked as an instrument design engineer at the Fox River plant of Proctor and Gamble. I left Bay Drafting to teach Architectural and Industrial Model Making at NWTC. After that I began a business in toy design with a partner from Sturgeon Bay. Eventually I went back to New Jersey to form a new partnership with Ted Wolf designing toys. It was in New Jersey that I began carving stone full time. I returned to Wisconsin, about 13 years ago where I continue to work full time as a sculptor.
Although I loved working in stone, I have within the past several years moved into working in steel and aluminum. The main reason for this change is I wanted to create larger public works. A block of stone 2'-0"x3'-0"x7'-0" (which is the largest stone I have carved) weighs 6,700 lbs. The equivalent size piece in steel might weight less than a 1,000 lbs.
My sculpture over the years has become increasingly abstract, but many still contain figurative elements. The larger public sculptures are meant to encourage thought, and in some cases create an environment that invites the public not just to look, but to touch or even to sit on the sculpture itself. I was asked recently if I could create a garden sculpture with lily pads and cattails, I said, "I could, but I wouldn't". I could create a bench that was sculptural and allowed people to sit and enjoy their garden, or I could create a sculpture that when placed in a garden could be enjoyed year round as the seasons change.
Sculpture has always played an important role in my life. When you look at a bronze and see the artists finger print that was originally in the clay or wax, or look at a carving in stone or wood and realize that every chisel mark was deliberate, you can see and feel what the artist was trying to express, not in words but in sculpture.