Thomas Skupniewitz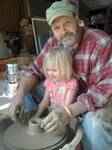 Thomas Skupniewitz has delighted art collectors across the country with his contemporary pottery and landscape sculptures. He is also an accomplished sculptor, painter and photographer.
Thomas, known to his friends as "Bud" lives and works in the hills of Wisconsin.
His pottery is inspired by the natural environment and his love of the outdoors. In his work, we see organic shapes and earthy colors, both rich and lush, and patterns that we recognize in nature.
Skupniewitz's unique modern landscape sculptures, both bronze and steel, are a mix of geometry, balance and structure. Incorporating both movement and sound, these colorful sculptures add to the harmony of the natural landscape.