Jim Johnson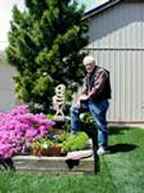 An advertising photographer for 35 years, with 20 of those years in his own studio, Johnson retired in 1996.
Through the years, he has worked in wood sculpture and since retiring, he has added stone to the medium he is using. His current work is in limestone, featuring frogs, birds, cats and other animals, which have been described as whimsical, along with free form stylized pieces.
Jim's art pieces are typically displayed outside among gardens and walkways.