Judi Ekholm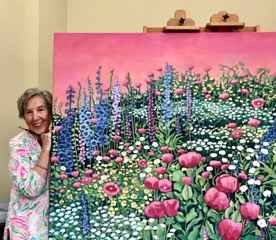 "Welcome to my painting world for 2022. It was such a fun and joyful year in the studio. I literally took the time to play with different compositions in size and color. The journey was to explore new places to inspire new paintings that presented reality in a different light.
I went to the sea for costal ideas and coral reefs. I went to Alabama to find fields of open land with wildflowers. I went to South Carolina for windswept beaches and marshlands and of course I spent a lovely summer in beloved Door county trying to catch the special vibe that exists on the land.
All of the oil paintings were executed using Gamblin oils on Belgian linen or Ampersand panels. Saturated color was achieved by the application of about 30 layers of thin paint. "I am a brush painter by nature. I truly believe the brush gives a more human and direct feeling to my work. I like to weave in and out with the stroke to create texture, movement and pattern"
JUDI EKHOLM
Judi Ekholm resides in Miromar Lakes, Florida during the winter months and can be found during the summer driving the back roads of Door County. Her work can be found in over 1600 international private and public collections.