Judi Ekholm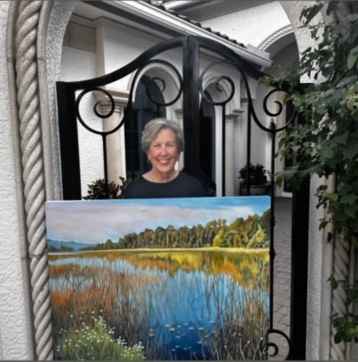 ADVENTURES 2023 - a year to explore, create and experiment with new ideas
"What a great and fun time I have had these last months pushing forward into new creative ventures. I have been stretching into new abstraction, texture and materials. Four new series of paintings were created: Door County Blues, Waterworks, Out in the Field, and From Spain with Love. Just a wonderful year to explore, create, and experiment."
As an oil painter, I am endlessly fascinated by the interplay of color, light, and texture in the natural world. My work is grounded in a deep appreciation for the beauty and complexity of the environment around us, and I seek to capture this essence in each piece I create.
Judi Ekholm was born near Louisville Kentucky. She has painted in oil since the age of 10. She obtained a Master's degree from Indiana University and was fortunate to study with the iconic William Bailey. She has been exhibiting with Edgewood Orchard Galleries for over 20 years and has been exhibiting in the Midwest and Florida for over 40 years. Her work can be found in over 1600 private and corporate collections including Kimberly Clark, University of Wisconsin, Northwest Mutual, Borg Warner, University of Minnesota Medical Center, West Bend Mutual, and All State Insurance.
She is a summer resident of Door County, Wisconsin and can be found in winter months in her studio in Miromar Lakes, Florida.
Whether I am painting a sweeping landscape or a close-up of a flower, my process always begins with careful observation and study. I spend countless hours exploring my subject, experimenting with different techniques and approaches until I feel I have truly captured its unique character and energy.One of the things that draws me most to oil painting is the versatility and depth of the medium itself. With each stroke of the brush, I am able to layer colors and textures in a way that builds richness and complexity over time. I enjoy playing with the balance between realism and abstraction, using bold brushstrokes and vivid colors to convey emotion and energy.
Ultimately, my goal as an artist is to invite viewers to slow down, to take a moment to appreciate the beauty and wonder of the world around us. I hope that my paintings inspire a sense of awe and reverence for the natural world, and encourage others to seek out their own moments of connection and appreciation in their daily lives.