Ellie Burke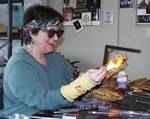 These pieces are a result of reflection on my childhood, my parents and my paternal grandfather, tunesmith Joe Burke. Granddad was a successful song writer on the 1930's and '40's and my father was very proud of him. Before my father passed away in spring of '98, I promised to create a tulip piece, commemorating Granddad's song, "Tiptoe Through The Tulips".
My childhood was a happy one represented in my work by games and the excitement of seeing my mother all dressed up to out some evenings. In 1997, she, my sisters and I went to the Philadelphia Museum of Art's "Best Dressed" Exhibit. Seeing the Museum's collection of designer dresses of the '50's and '60's (among others) brought those memories forward and offered a new forum for sculptural exploration.
In March 2002, Ellie was featured on an episode of Home & Garden Television's Modern Masters Series! Exploring whimsy as an art form with integrity in her Milwaukee studio since 1981, Ellie expresses her lighthearted views through sculpture, perfume bottles, ornaments, and jewelry.