Nancy Briggs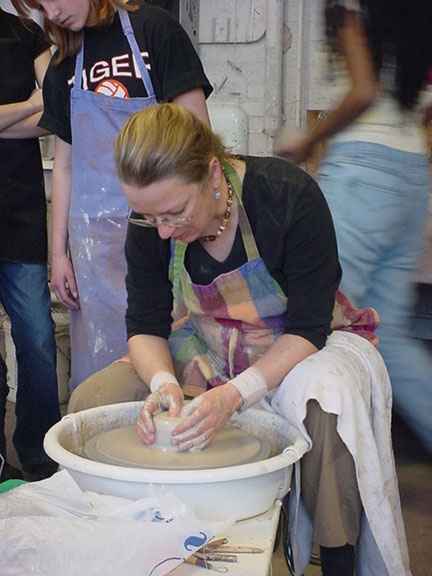 Love of all things green and growing inspires the imagery for my earthenware pottery and sculpture. My forms are thickly thrown on the wheel or formed with slabs of clay. I draw organic imagery on the surface and then dimensionally carve the clay when leatherhard. Colored underglazes are applied to unfired clay in a painterly way. I bisque fire and apply a dark glaze to create accent and shadow and fire again to 2000 degrees. Pots will hold water and are colorfast. Sculpture may be displayed outside during non-freezing months. Sculpture includes animals, birds, people, suns, moons and sculptural book forms. Every piece is original, no molds are used.
I grew up in Wisconsin and graduated from UWSP after studying under Professor Richard Schnieder and Professor Norman Keats. I currently live in Des Moines IA where I taught ceramics at the Des Moines Art Center for 30 years. I currently teach at the Ankeny Art Center and in my private studio. My studio is in a 1910 carriage house which I renovated in 2016.
I spend countless, joyful hours in my studio lost in mud. I garden both veggies and flowers. I also draw with pastels. I am happiest when my hands are dirty.